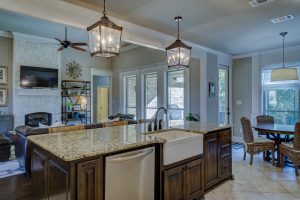 What are Home Appliances or Domestic Appliances?
In a simple definition: home appliances are instruments or devices, usually electronic or mechanical, designed to do particular household tasks or functions. The Collins dictionary defines "domestic appliances" as: "a machine used for household tasks, for example, a washing machine, refrigerator, etc. ". Generally speaking, almost any electrical or mechanical device intended for domestic use can be considered as "home appliance". This includes consumer electronics, refrigerators, toasters, air conditioners, washing machines, vacuum cleaners, coffee makers, water heaters or coolers etc. Even stoves, light bulbs, and water well pumps are also the kinds of home appliances.
Home appliances are frequently used to accomplish tasks related to cooling/heating, cooking or cleaning. Home appliances can be classified into following categories:
Major appliances, or white goods
Small appliances
Consumer electronics, or brown goods
This classification is important from maintenance and repair point of view. Consumer electronics or brown goods require high-tech skills and knowledge. This area is becoming more and more complicated with time, for example, going from soldering iron to a hot-air soldering stations. Major appliances or white goods require a specific skill set and "brute force" to troubleshoot and repair the devices using heavy tools.
Home appliances have single point agenda i.e. "To make your life easy". So keep looking for new and stylish home appliances to run your home in an easy and different way. Keep upgrading your old appliances or replacing them with new ones because new appliances can save you big time that you can spend with your family, friends, and fun. Use an intuitive washer, dryer or steamer for your clothes. Use an air conditioner or heater to adjust your indoor temperature as per your levels of comforts. Use steam-mop, latest vacuum and carpet cleaners for your floor care. This will all add up appeal and value to your home and lifestyle and save you many precious hours of your life.
Today, the usage of following appliances have become an essential part of daily household life:
Major Kitchen Appliances
Refrigerators, Freezers & Ice Makers, Ranges, Cooktops & Ovens, Range Hoods, Dishwashers, Microwaves
Small Kitchen Appliances
Coffee, Tea & Espresso, Blenders & Juicers, Mixers, Toasters, Pots & Pans, Slow Cookers, Crock Pots & Roaster Ovens, Food Processors
Laundry Appliances
Washers & Dryers, Irons, Steamers & Sewing Machines, Washer & Dryer Packages, Heaters
Heating, Cooling & Air Quality Appliances
Heaters, Fireplaces, Fans, Air Conditioners, Air Purifiers, Humidifiers, Dehumidifiers, Thermostats
Vacuum Cleaners & Floor Care
Upright Vacuums, Handheld & Stick Vacuums, Robot Vacuums, Canister Vacuums, Carpet Cleaners, Steam Mops, Commercial & Garage Vacuums
To maintain smooth workflow, always keep your appliances up and running with the proper maintenance and parts repair or replacement. Appliance accessories play a vital role in keeping your appliance up and running. Sometimes cleaners, filters, cables or even coffee pods for your coffee maker can waste many precious hours that you saved by using appliances. So always keep appliance accessories handy wherever possible.
Happy Life 🙂